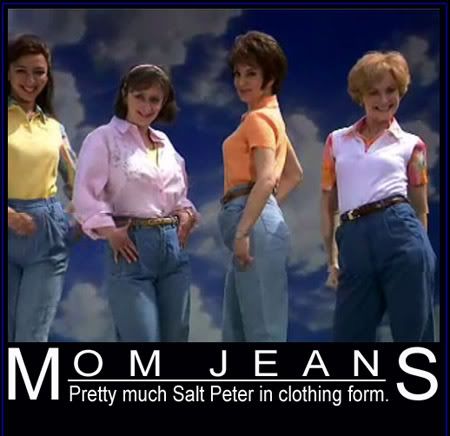 I, like most people, grew up mortified by my mother's fashion sense (sorry, Mom. I have to add a disclaimer that my mom is gorgeous and a very good dresser now). Between the standard Mom hairdo and the high waisted jeans with tapered legs, she looked pretty much like every other 1980's mom-a hot mess. The other day at the grocery store I looked down and realized that I was wearing Mom jeans and my daughter had pulled my shirt down so that my bra was hanging out. I didn't have time to straighten my hair so it was in a frizzy ponytail. Where did I go wrong?
The style of moms in pop culture over the years has greatly changed. I grew up watching Full House (no Mom....poor kids), Growing Pains and Home Improvement. The moms on the latter two sported short curly 'dos that formed a triangle shape and regularly rocked the mom jeans. The message was that moms had so many other people to care about and so much else to do that personal style was on the bottom on the list. Over time, TV moms have become the Desperate Housewives variety, who are so ridiculously skinny and well-dressed that eating disorders in women later in life are at an all-time high. "Real-life" celebrity moms include people like stupid Heidi Klum, who pops out a kid and then walks down a Victoria's Secret runway two weeks later. Although I suppose if I had a full time nanny, chef, and personal trainer I could be back in shape that fast too (and breast implants and a tummy tuck).
There needs to be a balance in there somewhere. To me, the best mommmy style icons are the women I see out running pushing double strollers who can effortlessly hand out Cheerios while pushing their toddlers and running. I also envy the moms like a friend of mine who has two kids, a deployed hubby, a house on the market, and still not only (a) matches, (b) does her hair and makeup, but (c) looks super cute all the time.
As for me? My kid is 15 months and I still have not found a new pair of jeans that fits right and I can't quite figure out what is appropriate to wear to playgroup and the grocery store to look stylish but not too much so. So look the other way when you see me out. And tell me if my bra is hanging out.